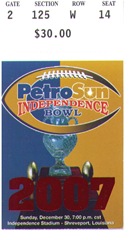 My work allowed all employees to sign up for two free tickets for the Independence Bowl.  I'm not normally into football, unless it's LSU playing, but I figured it was free, and I've never actually been to a football game in real life.  It was pretty fun.
It was Alabama vs. Colorado.  Apparently, I'm supposed to cheer for Colorado, since Bama is LSU's arch enemy or something.  Colorado kinda sucked, especially their weak offense, and they lost 30-24.  Colorado did take an actual buffalo and parade it all around the field, so that was pretty neat, and I think we were on TV for a few seconds, but I'm not sure.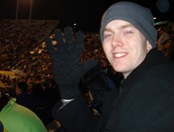 It is cold outside, and I don't really have any cold weather clothes.  I was wearing my normal Old Navy jacket and my City Name Sports Team T-shirt (apropos).  When I arrived at Jenny's apartment to go shopping, eating, and to the game, Rachel informed me that I'd be freezing.  I thought we were just going to get a new jacket with a hood and some gloves for me, and Jenny and Rachel were going to get gloves.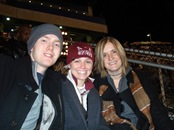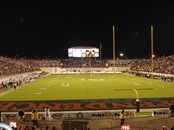 Jenny let me know that hoods aren't cool and made me get a pea coat.  I'd never even heard of such a thing.  I also got a sweater from Marshall's and a hat and gloves from Wal-Mart.  I like the sweater, and I've never had any of those either, but I don't know how I feel about the pea coat yet, and that stupid thing was $50, even at the cheap store, Ross.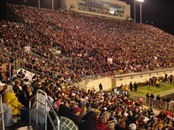 The pea coat, hat that covered my ears, sweater, and gloves kept me nice and warm, and I drank a little which helped too.  Now I have cold weather clothes and I've been to a football game!  We got there right as the 1st quarter was ending, and left 3 minutes into the 4th quarter to beat traffic.  We caught the end of the game on ESPN HD and watched Colorado lose.
Then I played some kind of gun game on Jenny's Wii.  I think it's called Crossbow Training or something.  There was no Mii for me on the Wii, so I created one of those first.  That was the hardest part!  I got silver on my first try on the game, but it's not as fun as shooting real guns. 
---