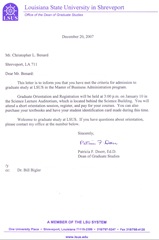 Apparently LSUS doesn't hate me.  They've admitted me into their Masters of Business Administration degree program, not that the requirements are all that stringent.
I've just been waiting forever to get something in the mail from them, so this is finally some good news.  Unfortunately, I have to go listen to them drone on about the school that I've already been attending forever before they'll unlock my courses so I can register on Compass myself.  That school is so ignorant sometimes.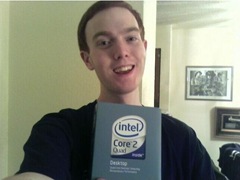 In other news, I built (or rather Chris built) a new computer.  It's a Intel Core 2 Quad Q6600 2.4GHz, pqi 4GB(2 x 2GB) DDR2 (PC2 6400), ASUS P5K Motherboard, and a CHAINTECH GSE86GT-A1 GeForce 8600GT 256MB 128-bit GDDR3 PCI Express x16 video card.  Yes, I know the video card is crap, but I don't play PC games at all.  I play games exclusively on my Xbox 360 Elite.  I just needed a DirectX 10 capable card to offload all of Aero Glass to the video card, rather than the processor.  All four parts cost a total of $630 on 12/19/2007.
This new computer is insanely fast and runs much cooler and quieter than my old PC (Athlon 64 3000+ with SilentBoost K8 fan).  Speaking of Aero Glass, I'm a Vista convert.  It works much nicer on this hardware than on the previous hardware I tried, and I really like its interface and layout.  If you use Vista, definitely get Switcher.  It's life changing.
On Vista, Windows Live Writer, which I've been using to compose my blog posts over the past couple of months (and it's totally awesome), works a lot better on Vista.  I'm guessing that it's written in WPF or something, but I'm not sure.  On my XP, it flickered a lot, a common problem if you look in the forums.  I've had none of those issues on Vista.
Unfortunately, my keyboard software (iTouch) doesn't work with my Logitech keyboard.  Someone wrote replacement software for Vista called nTouch, but it only works if the media application (I use Yahoo! Music Unlimited so I have to use Yahoo! Music Jukebox) is focused.  That removes the entire utility of the media keys!  So, I'm faced with one of two choices: switch to the Jesus of keyboards, the Microsoft Natural Ergonomic Keyboard 4000 (I swear by it at work [software developer]), or live with degraded media key support.  The reason I'm still using this Logitech Cordless Elite Duo is because of the nice keyboard media keys, which the Microsoft Natural 4000 doesn't have.
The other issue is my scanner.  I use a Visioneer OneTouch 8700.  There is no Vista support, and the scanner has been EOLed, and there will be no Vista support.  Another choice: buy another scanner, or do something completely nerdy.  I chose the nerdy path of course, and installed VMWare Workstation 6.02.  It has the ability to virtualize USB devices, not just the installed driver versions of them.  In other words, the guest OS can see the raw USB device and install its driver for it.  The host doesn't have to have any knowledge of what's hooked up to the PC.  So my guest, XP, can see the scanner and use its drivers and the host, Vista, doesn't know anything about the scanner.  I installed PaperPort inside my tiny VM, and it all runs extremely quickly on my new hardware.  So now, when I want to scan, instead of firing up just PaperPort, I fire up a suspended virtual machine with PaperPort already running.
Whatever.  Bottom line: I love my new computer, Vista, Switcher, and Windows Live Writer a lot, and I'm glad the MBA program at LSUS finally realized that I applied.
---