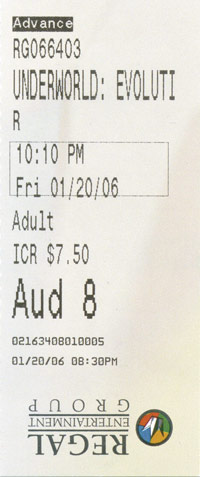 I died a little inside.For the rest of this post, "Today" and "Tonight" refer to yesterday, since it's about 1AM, but I consider it part of the same day since I haven't gone to sleep yet. Since that's out of the way…

I just got back from seeing Underworld: Evolution. Today was Matt Smith's birthday, and he wanted to see Kate Beckinsale jump around in a tight leather suit as a vampire. I can't blame him for that; in fact, that was the movie's only saving grace. I can, however, blame him for liking the movie for its substance, also.

This movie was absolutely horrible. The entire movie reminded me of Doom 3. You could hardly see anything because it's all at night. Oh no! If vampires get in the sun, their knuckles get temporarily uncomfortably warm. If you've seen the movie, you'll know what I'm talking about. If you haven't, don't.

The theater was the largest I've ever been in, and must be the largest they have at the Boardwalk Regal Cinema here. It was totally full, and it also reminded me why I watch DVDs instead of going to the theater. During one point some guy (I don't know who. The movie sucked.) was like "What keys? I know nothing about any keys". The guy asking him had wings that had some spike thing on each side. I'll call him "Spike". I'll call the guy who said he didn't know anything about keys "Loser". Spike grabbed Loser by his shoulders using his spikes and drug Loser toward him across the table. Spike glared at Loser as though he had just sat through a boring movie. Replying to this body language Loser said, "Oh, those keys". About 90% of the theater cracked up as though that was the most hilarious thing they'd heard. I sighed audibly.
At the end of the "fight" sequence, which consisted mostly of vampire machine guns with "UV rounds", the bad guy (I guess) gets vanquished predictably, and again about 90% of the theater cheers. I think one can apply John Gabriel's Greater Internet Fuckwad Theory to this situation. Get a big enough room, jam a bunch of people into it, make them watch a crappy movie together, and see how they react. They acted like it was a Roman gladiator battle in which they were personally involved. Enough about the audience, back to the movie.
The movie was so boring the first few minutes through that I decided to fish out my bubble gum and start chewing it. "Surely that will pass the time", I said to myself. As I began to chew it, I remarked to myself, "Wow, this is really good bubble gum". Bubble Tape is the superior bubble gum, after all. While chewing it and staring at the screen, I began to blow bubbles. I kept thinking about the gum, because there was no discernable plot, except the following: vampires hate werewolfs. They like to fight each other. You are seeing the viewpoint of one of the vampires.
I kept thinking to myself random bubble gum related thoughts such as "Wow, I wonder how long this flavor will last" and "I hope the elasticity holds until the end of this movie" and "I wonder if I popped this bubble really loudly if the rest of the theater would notice during this 'fight scene' and of course "Should I get another piece or will this hopefully be over soon? I don't want to waste another piece on this movie".
In conclusion, if you want a dark place to ponder the merits of chewing bubble gum, go see Underworld: Evolution. If you're all out of bubble gum, keep your $7.50.
---