Meefaw Inc. Volume 3The future is now; it's 2006. I had lots of fun last night and didn't wake up today until about 2:30pm. I didn't get to go to sleep until about 6:30am. More on that later. Josh finished editing on Meefaw Volume 3 while ago, but it's finally all online in its full glory. I did a lot of last minute work to get it online so Josh and I could "announce" it at the New Year's party at Joey's house. It turned out that I didn't know most of the people at Joey's house, so it was more of a personal announcement to each of the people who would care. 🙂 I did meet a guy who looks just like the Numa Numa guy.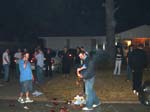 Fun With FireworksThen we got to pop a bunch of fireworks, hang out, play ping pong, and play poker. I didn't play poker, because I don't like losing money and because I didn't really understand how to play what they were playing (Texas Hold 'em ?). I did meet a bunch of cool, new people. Having fun guy one? The most fun in the world.
We then went to IHOP to eat, around 3 or so, I don't really remember when we go there or left. We had an old waitress who was incredibly mean, and who is apparently a stripper. You might think that sounds cool, but I assure you it is not. She was really old; I'm talking Medicare old. Nasty! After we got done eating and talking and getting insulted by the elderly stripper waitress, we paid our bills and left. I was to take Cody, Joey's half brother, home since he lived near me, but I had to stop for gas first at the RaceTrac by the 3132 entrance on Bert Kouns.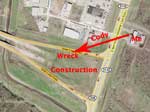 Map of What Happened (Thanks Google)While I was starting to pump gas, Cody witnessed an Escalade go around the corner quickly to get on 3132 and the back end slid out from behind it. He saw it flip into the construction area and come to a stop. He told me to call 911 (because his cell was broken) and he took off running across Bert Kouns toward the wreck area to see if the person was injured and to tell them help was on the way. I described the situation to the 911 dispatch operator and a few minutes later, fire/rescue and cops arrived. I was still pumping the gas, and there wasn't anything I could really personally do, so when I got done, I drove over there so Cody wouldn't have to walk/run back. When I got there, I found out that the driver crawed out of the passenger side, which was then flipped up into the air, and ran off away from Cody. My guess is the driver was drunk and didn't want to get caught DWI. He'll probably claim it was stolen.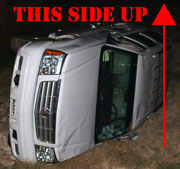 Flipped EscaladeWe had to wait forever to the cops to take Cody's statement, but that has to be the most interesting New Year's eve I've ever had. I'm glad I didn't sit home like a loser and watch a ball drop on NBC.
---